It's that bittersweet time when summer fun is coming to an end and the focus is shifting to the year ahead. But fear not, those travels and adventures – both near and far – can be the perfect design inspiration for your home, helping create a personal space that provides meaning and memories long after the bags have been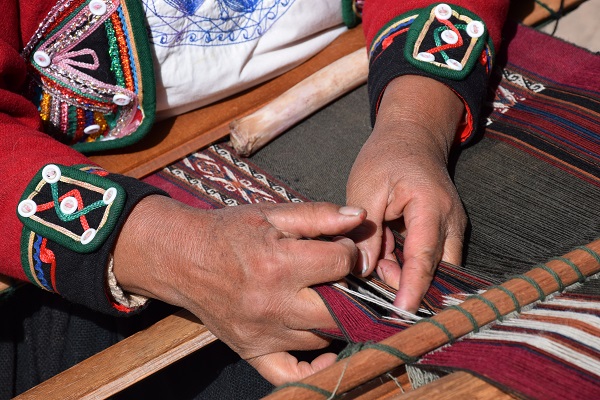 unpacked.
That has me feeling grateful this month, as I recently returned from an amazing trip to Peru. A place that left me invigorated and awed at the wonders of our world. One of the things I was most influenced by were the textiles. Full disclosure, I tend to appreciate textiles in general – I haven't met a throw pillow, rug or curtain I didn't like. But the ways of the people in the mountains of this South American gem gave me a whole new appreciation. The colors, the natural materials and the old world processes they still use were dazzling.
Outside of the town of Cusco, a city that has preserved traditional culture, I watched an old woman working off dirt floors dye her soft alpaca wool with berries, bugs and other organic materials. The results were pure, natural and vibrant yarns that were woven into many things, from hats and scarves to blankets and pillow. And yes, I brought home some of each. Pieces I
cherish that will remind me of this trip every time I look at them.
Another material I love to use that I developed a whole new appreciation for was stone. The way the Incas moved and crafted stone to build monolithic formations that still stand today was and is mind boggling. An engineering feat we will never replicate in our modern world. But that doesn't mean I won't try! From fireplace surrounds that create a focal point to the basic tile elements you can use in kitchens and bathrooms, stone is a natural material that can ground a room and endure the tests of time.
I am thankful for opportunities to travel abroad, but you don't need a stamp in your passport to get the same muse out of your trips. From beaches to mountains, there are plenty of elements all around you to help add a touch of nostalgic meaning to your home.
Summer or not, one of the first things I ask clients who are trying to pinpoint their design style is "where do you love to go." Their answers can help determine the colors, styles and textures that will make their home the unique, personal space it should be.
Beach person? Think about whether you're more Ocean City or Outer Banks. When I think of the Maryland boardwalk, I think retro, bright and funky. That might mean neon colored art against bright white or a reclaimed wood wall with pops of worn paint. The natural elegance of the Carolina barrier islands brings to mind jute rugs, walls of sand or light gray and soft blue furniture with driftwood accents. The idea isn't to recreate
your beach house rental, but to create a subtle, sophisticated interpretation of that coastal feeling.
More of a mountain or Adirondack person? Have fun with rich colors, rustic woods and fuzzy and cozy throws. Imagine hardwood floors on the ceiling to create an organic richness with a hint of cabin mystery, or a glass column filled with large river rocks.
TIP: Regardless of your destination of choice, scale is important. I spend the majority of my time as a designer helping clients find the right balance. We're often limited by budgets that make our choices smaller and more affordable. But the right sized – or oversized – piece can transform a room.
An easy way to bring in the sights and feelings from anywhere you end up? Art. A gallery wall filled with photographs from your travels can create a space that has a story to tell. Blowing up your favorite shots and even printing to canvas can provide you with one-of-a-kind masterpieces that are truly reflective of your life.
However you choose to harness your summer travel memories, I urge you to think outside the box a little and push yourself out of your comfort zone. After all, isn't that part of the joy of travel too?